CDTRP presents: Patient, Family and Donor Research Forum
Thursday, November 4, 2021
CDTRP presents: Patient, Family and Donor Research Forum
When:
November 4, 2021 | 8:00AM

to

November 5, 2021 | 4:00PM
(EDT)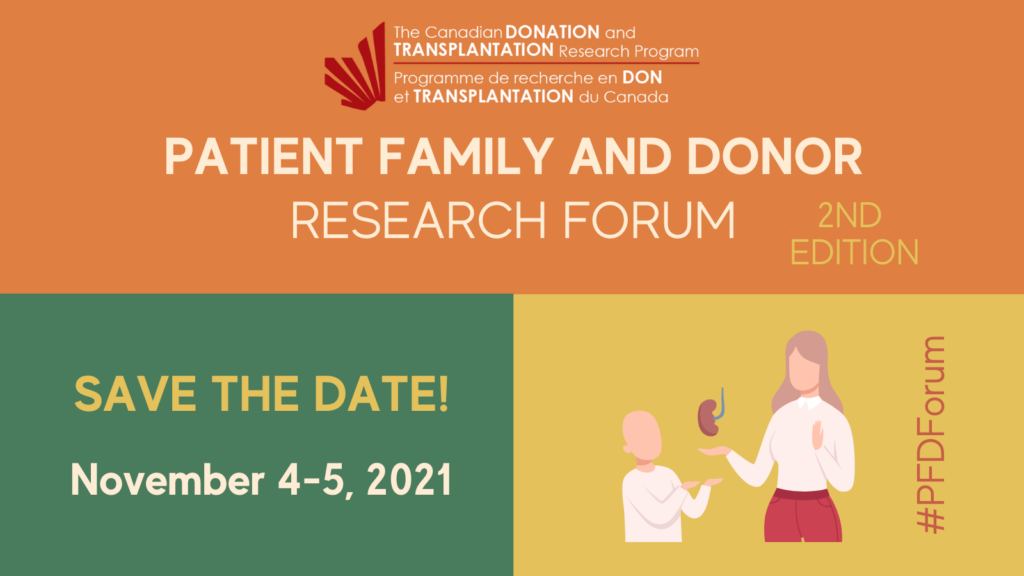 Patient, Family and Donor Research Forum November 4-5, 2021 – Meet our Co-Chairs
Mark your calendars: the CDTRP 2nd Annual Patient, Family, and Donor Research Forum will be held on November 4 – 5, 2021. Due to continuing uncertainty about public health guidelines and practical planning requirements, the PFD Research Forum will take place virtually.
This year's meeting chairs include Linda Powell (caregiver to a waitlisted patient) and Larry Worfolk (lung transplant recipient)! Our Planning Committee also includes Sarah Middleton (non-directed living donor), Joanna Mitchell (caregiver to a pediatric heart transplant recipient), Sarah Douglas (ODTC – Health Canada) and Dr. Rahul Mainra (Canadian Society of Transplantation).
For more information, please visit Patient, Family and Donor Research Forum November 4-5, 2021 – Meet our Co-Chairs – Canadian Donation and Transplantation Research Program (cdtrp.ca)